MPEG To DVD Burner: The Best 4 Underrated Software [Review]
Some find watching DVDs a bit archaic and feeling a bit outdated? Worry not, because you are just one of the many people who want to enjoy watching movies at their home theater rather than on a small screen. Especially when you have your MPEG files stuck in your digital storage, it is best to save them on a DVD so you can have more space to cater to other files.
Yet, the first struggle you will have to face regarding DVD burning is not the process itself but finding the right tool that successfully carries out the task.
Heads up for the suitable answer to the free MPEG to DVD burning software are on the way for today's topic.

Part 1: Best MPEG to DVD Burning Software for Windows and Mac
AnyMP4 DVD Creator is software-compatible both with Mac and Windows platforms. This desktop program is a top solution when backing up your files because of its robust and comprehensive features. First, it has a user-friendly interface which is perfect for someone who is not tech-savvy.
Secondly, the program offers tons of templates for your do-it-yourself DVD menus. Long before Netflix and other streaming sites online came into existence, this fancy navigation on our TVs was on-trend. With AnyMP4 DVCreatortr, you can match the genre of your files and even add background music. Lastly, it supports more than 150 video formats that you can back up either in DVD, Blu-ray, or ISO folder.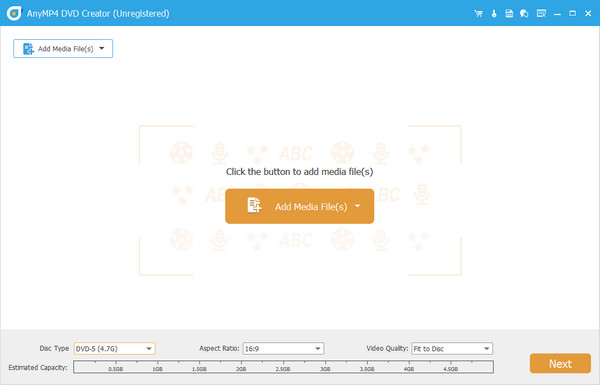 Pros:
1. Supports 150+ video formats
2. It comes with a built-in video editor
3. Free DVD menu templates
Cons:
The free trial does not provide all features
Part 2: 3 More Free MPEG to DVD Burners
1. DVDStyler
If you are searching for a program that will never cost you a penny, DVDStyler is here. This program is cross-platform so that you can install it with any device. However, you also need to install the Avast Free Antivirus by downloading this tool.
It does not mean an open-source tool will not have the best DVD burning experience. As generous as it can be, DVDStyler also allows users to customize a DVD menu.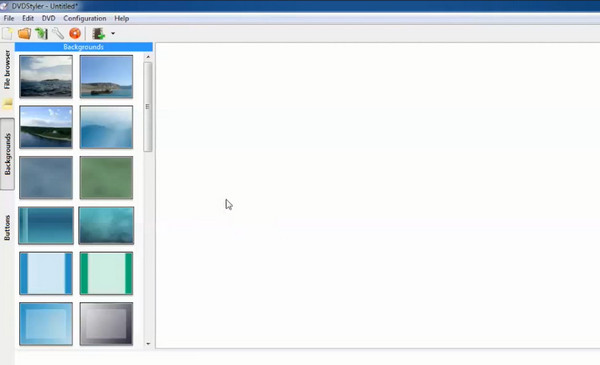 Pros:
1. Cross-platform
2. Free of charge
3. Easy to use
Cons:
You cannot use it for burning music files
2. Ashampoo Burning Studio Free
Another free MPEG to DVD burner that you should not miss on your device is the Ashampoo Burning Studio. Here, you can back up your, MPEG video into DVD, or Blu-ray. On the flip side, you can rip DVD discs and store them on your digital storage. To add further information about the ripping CD, this program extracts the file and automatically puts a file name for you to avoid doing it manually.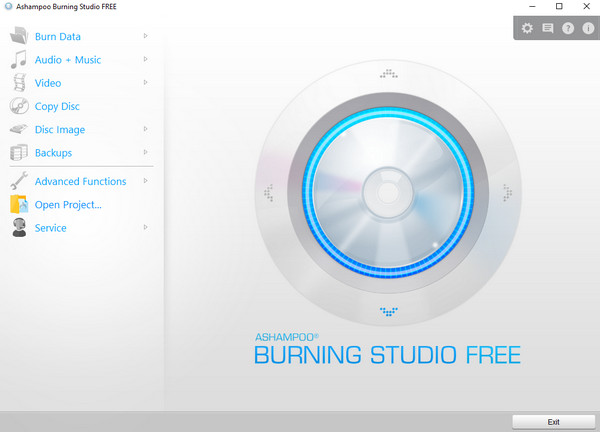 Pros:
1. Different product language available
2. Free of charge
Cons:
Not available in Mac platforms
3. CDBurnerXP
A tool that comes with a colorful blue and green interface, CDBurnerXP is at your service. This program has a multi-language interface. Not only that, anyone can freely offer their help to translate the program on their own. However, this is not supported on Mac and Linux devices and is not useable for creating a DVD menu.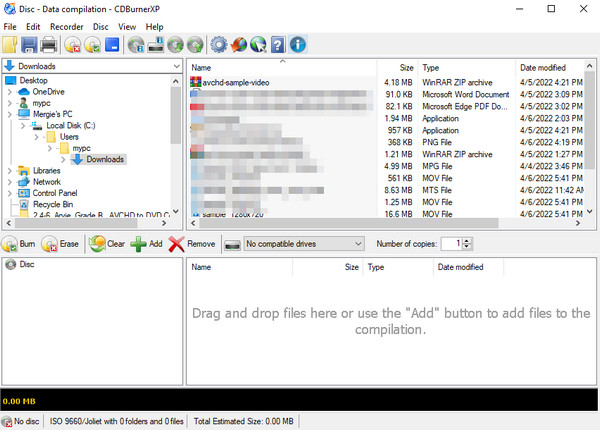 Pros:
1. Multi-language interface
2. Burns ISO folders
Cons:
Only compatible with Windows platforms
Part 3: Comparison Table of DVD Burners
If you still have doubts about which DVD burner to use, here is a simplified table of their differences and similarities.
| | AnyMP4 DVD Creator | DVDStyler | Ashampoo BurningStudio Free | CDBurnerXP |
| --- | --- | --- | --- | --- |
| Cost | Free/Paid | Free | Free | Free |
| Interface | Simple | Outdated looking | Simple | Outdated looking |
| Best for | Beginners to Professional | Beginners | Beginners-Intermediate | Beginners |
| Formats Supported | GREAT | GREAT | GREAT | GREAT |
| Contains a built-in video editor | √ | √ | × | × |
| Platforms | Windows and Mac | Windows, Mac, and Linux | Windows | Windows |
| Maintains the quality of the video | √ | √ | √ | FAIR |
| Contains DVD menu templates | √ | √ | × | × |
Tips: How to Burn MPEG to DVD with AnyMP4 DVD Creator
Now, let's move on how to burn MPEG to DVD. Below is the step-by-step turorial that you can follow using the best DVD burner.
Step 1
Download the AnyMP4 DVD Creator
Begin by clicking the Free Download button that suits your PC or Mac device.
After installing the program, select the DVD Disc as your working mode.
Step 2
Import MPEG Files on the Program
Moving forward, hit the Add Media File/s button and import your MPEG videos.
Alternatively, you can simply use the drag and drop technique. On the surface of the interface, you can modify the DVD Disc, Aspect Ratio, and Video Quality.
Step 3
Edit the MPEG Video
If you want to edit the Audio and add Subtitle, do so by dropping down the tabs aligned in the thumbnail of your MPEG files.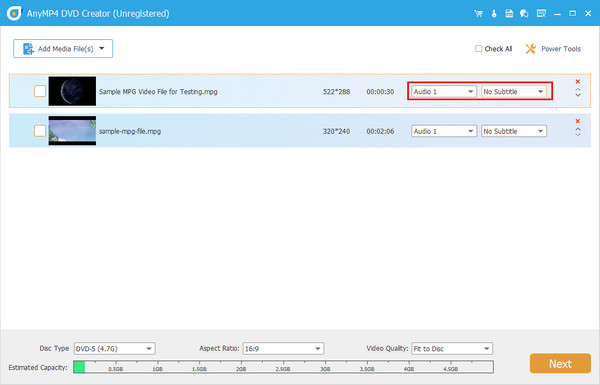 On the other hand, by using the Power Tools, you can trim, add effects and watermarks, rotate, and enhance the volume of your videos. Take note that you have to select one video at a time when editing. Once you are fine, hit Next.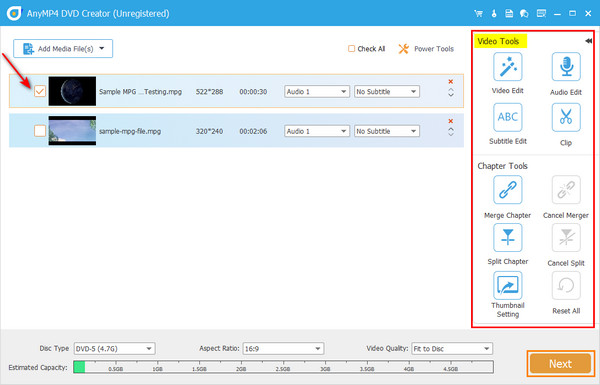 Step 4
Create a DVD Menu (Optional)
To customize a DVD Menu, here is what you should do. First, choose a template that matches the theme of your footage. Next, place a title for your disc and upload a soundtrack. If you want to skip this part, check the No Menu option.
After that, you can tick the Preview button to check what the DVD menu will look like, or to proceed to the last part, hit Burn.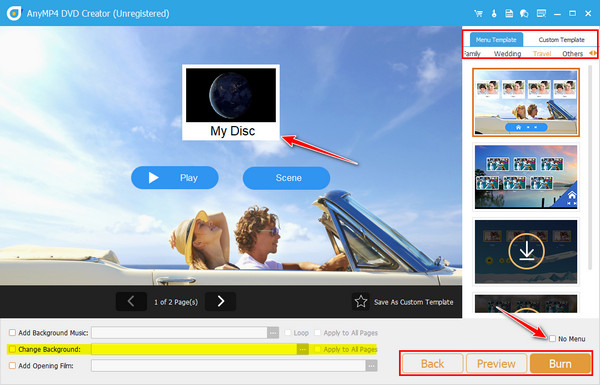 Step 5
Burn MPEG to DVD
Now, mount your blank disc on your DVD tray. You should see that the program detects the disc. Then, select your Burn Engine, TV Standard and Playback Mode. Then, hit the Start button and wait for your final output.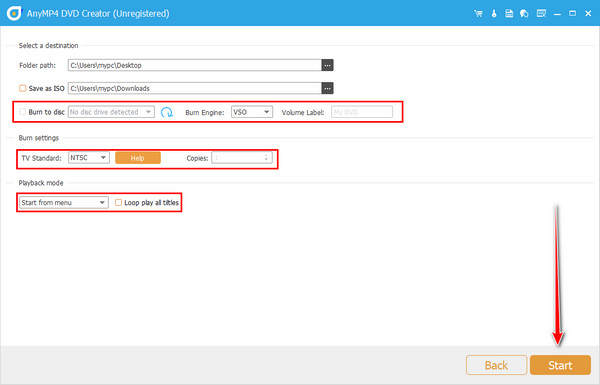 Part 4: FAQs about MPEG to DVD Burning
Are MPG and MPEG the same?
Absolutely, yes. Both of these file extensions are entirely the same. However, the MPG file is an older format used for an earlier version of Windows.
What is a MPEG video file?
MPEG stands for Moving Picture Experts Group and is considered one of the file formats with high compatibility.
Can you delete all the files burned on a DVD?
If your disc type is not DVD-RW, it would be impossible to delete your files.
Conclusion
Thus, these are reliable and easy MPEG to DVD burners. If you are looking for the one that meets all the standards, we believe it is the AnyMP4 DVD Creator. It came on a smooth sailing process from its interface to its ability to write files on DVD. Lastly, do not hesitate to tag this post with your friends and let them gain understanding too.