How to Burn MP4 to Blu-ray: Complete Guide from Preparation to Burning
Through technological improvements nowadays, the majority of the people may be found looking down at the displays of their smartphones or tablets for hours at a time. Because of the option to view as you go, any form of home watching DVD or disc appears to be an underrated item now. While it is becoming less prevalent, there are still a variety of reasons why you might want to burn MP4 files to Blu-ray disc. As an over, having Blu-ray movies can give us a more incredible experience of watching our favorite movies. That is why, this article will serve as your guide through the process of burning MP4 to Blu-ray disc instantly for Windows, Mac and other platforms.

Part 1. How to Burn MP4 to Blu-ray Offline
Preparation of Blu-ray Discs and Blu-ray Drive
As we start converting MP4 to Blu-ray freely, we will need these simple preparations to make the procedure doable. We shall begin by naming the rewritable discs we can use to burn the MP4 files we want to have a Blu-ray output; thus, if you are planning to have a Blu-ray disc, we need to ensure that our computer has the Blu-ray optical drive.
Furthermore, knowing the compatible disc for the process let us know how to proceed in giving the solution for computers that do not have a Blu-ray drive on their system. Buying an external Blu-ray optical drive is the easiest way, because you just need to plug it to your computer and insert a blank Blu-ray disc. Besides, installing an internal Blu-ray Drive on your computer is only a few steps behind. Kindly see the steps you can take below:
Step 1
In the first step, please switch off your computer's power supply before we begin. Then, slowly remove the Drive Cover from your computer. We only need to remember that you must twist it as often as we do until it snaps.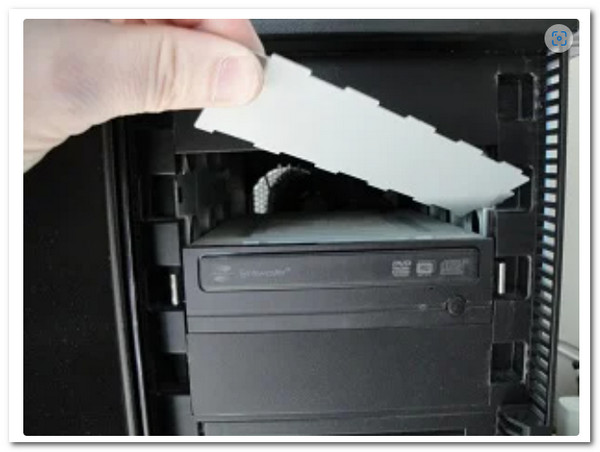 Step 2
Now, It is time to install the Drive on your computer. This process may differ on your devices because certain PCs require a screw for security and locking purposes, while others computer models don't. To avoid issues, we only need to arrange the Drive correctly.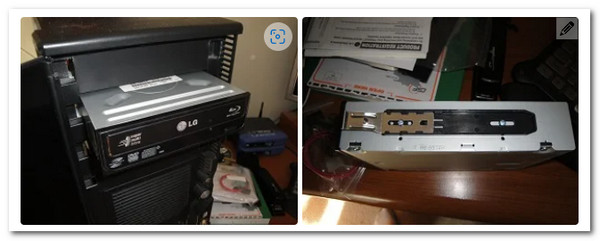 Step 3
After that, the wires must be connected for the driver to function correctly. As a result, we must locate the L-shaped line and link it to the Drive . Next, we must find the SATA cable among the hardware and attach it to the motherboard of your computer device.

Step 4
Let us now move on to the SATA Power Cable. We must link it within your Drive, as we did in the previous phase. This wire is frequently red and more critical than the one before it. Finally, when you are done, turn on your computer and start the burning process by following the instructions on the next point.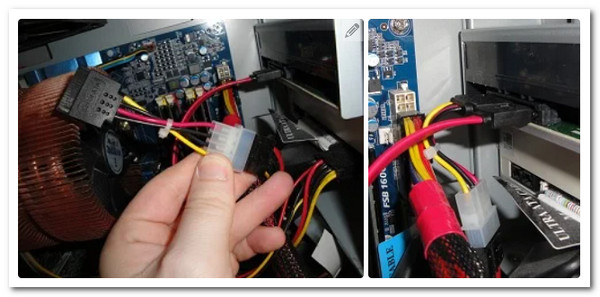 Burning Process using Blu-ray Creator
Because of its unique features, Blu-ray Creator is one of the best tools for burning Blu-ray discs. To conclude, we can now create Blu-ray discs, folders, or ISO image files from movies. Furthermore, this tool supports nearly all important video formats. Extra features include video cutting and cropping and the option to add subtitles and watermarks. It also provides many menu options and the ability to personalize them simply. These are the primary reasons why it is also the best approach to burning a Blu-ray disc.
After knowing this information, we shall now witness how we can utilize these features in making the burning of MP4 to Blu-ray as easy as possible. The instructions are listed below, and you may now start the methods using this offline software.
Step 1
Prepare your blank disc and place it in the Blu-ray drive we installed earlier. Consider the sort of disc we presented earlier, and we will be OK to proceed with the process.
Step 2
Start the excellent software of Blu-ray Creator on your computer and navigate to the Add Files button in the upper left-hand corner of the UI. You may now choose which MP4 media files to burn to Blu-ray.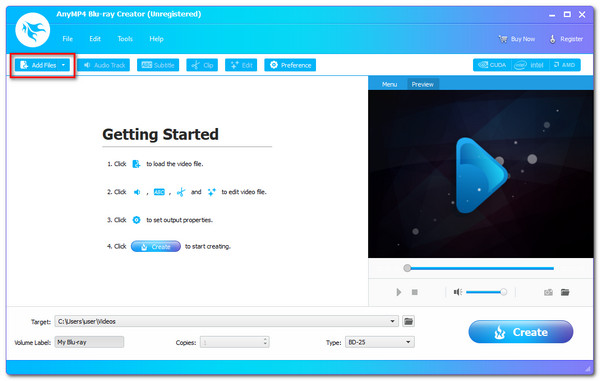 Step 3
After that, it will now allow us to view the MP4 media files you uploaded on the program's timeline. Using the Edit tab toolbox, you may do specific media manipulation tasks to enhance the MP4 before creating it as Blu-ray.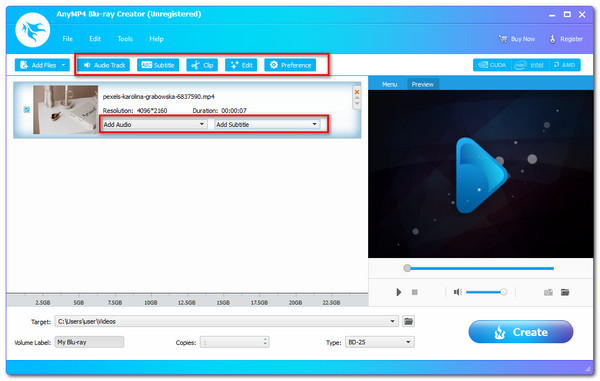 Step 4
If your MP4 files are ready to burn in Blu-ray after editing them, click the Create button to begin the burning process of MP4 to Blu-ray.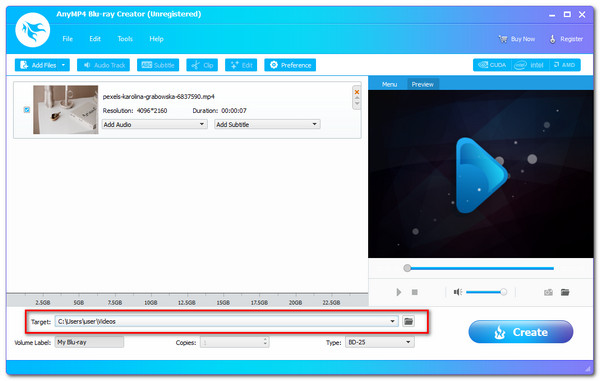 Step 5
Please wait for the B;u-ray Creator while the MP$ file is being processed. Then, observe the outcome after it.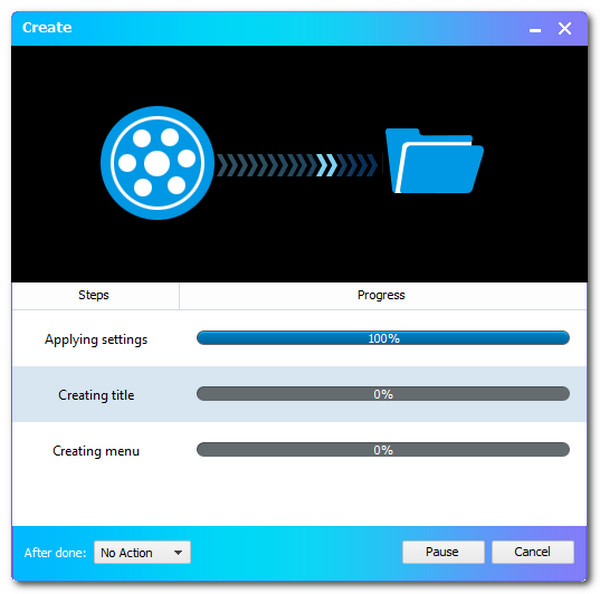 For more MP4 to Blu-ray converter, you can refer to this post.
Part 2. How to Convert MP4 to Blu-ray Online
The process of creating MP4 to Blu-ray using an online tool is not possible because they are always lacking the features to make it. However, we can have an alternative process for it. Little did we know, converting MP4 to Blu-ray alike format is possible through an online tool. That is by turning our MP4 to M2TS since M2TS is one of Blu-ray movie's most infamous video containers.
Convertio is one of the tremendous online converting tools that can give us the ability to convert an MP4 file to M2TS so that we can have Blu-ray files. Please see the steps we have below in making it.
Step 1
Please launch the incredible Convertio converter online using your web browsers and click the Choose Files. From there, we can select the MP4 files we need to convert into a Blu-ray with an M2TS video container.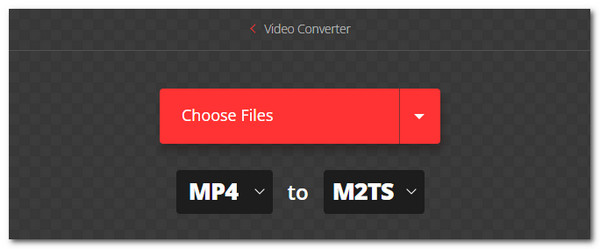 Step 2
We can now see the MP4 file placed on the timeline of the online tool. Thus, editing the media information is possible by clicking the Setting icon.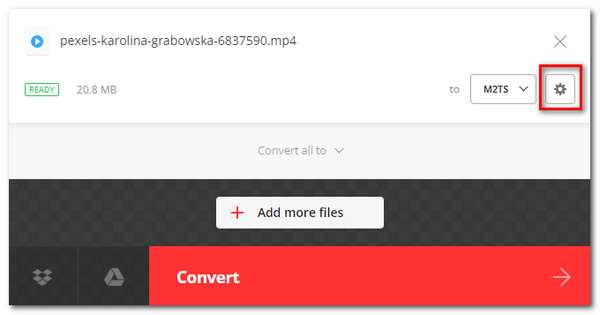 Step 3
If you are now done with the editing process, let us now start the conversion by hitting the Convert button. Please wait for the process until you now have the output.
After that, you can play the M2TS files on a Bu-ray player.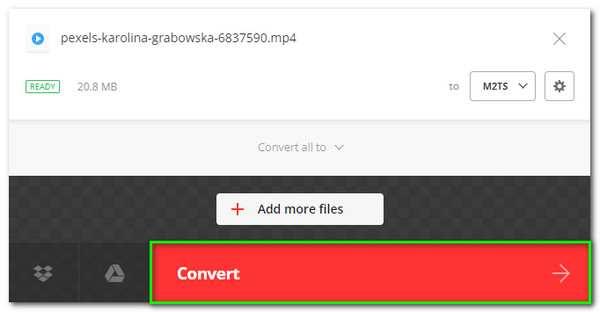 Part 3. FAQ about How to Burn MP4 to Blu-ray
What possesses the best quality between Digital HD and Blu-ray?
The basic Blu-ray disc has a resolution of 720P or 1080P. Also, 4K Blu-ray movies are available. The 1080P Blu-ray has a resolution of 1920x1080 pixels and a bitrate of 53.95 Mbit/s. Blu-ray is often higher in quality than digital HD. A 1080P Blu-ray delivers a far superior visual experience than a 1080P HD DVD due to the differences in bitrate and frame rate. Check this post to see the differences between Blu-ray and DVD.
What is the definition of the M2TS file format?
The Blu-ray Disc Audio-Video or BDAV and MPEG-2 Transport Stream or M2TS container file format is known by the file extension M2TS. It is used to combine audio, video, and other streams. Its foundation is the MPEG-2 transport stream container. This container format is often used for Blu-ray Disc and AVCHD high-definition video.
How big is an hour of 4K resolution Blu-ray movie for storage?
One hour of 4K film with 4096 x 2160 resolution is around 42 GB. Then, 25 hours or 1 hour daily equates to approximately 1 TB. Looking at these, Blu-ray moves in 4K demands a lot of hard-disc space.
Conclusion
In conclusion, we can now have Blu-ray movies from an MP4 files installer using the great Blu-ray Master for its Creator. We can see how easy it is to utilize. Therefore, we can now have a hassle-free process using it. Let us now share this information with a friend who might need it or visit our website for more guides to have a Blu-ray.