Ultimate Ways to Convert Blu-ray to DVD [Steps Included]
Get ready to take your video-watching experience to the next level! With this article, you'll discover all the reasons why transforming your Blu-ray videos to an older DVD version is the way to go. And the best part? We've included the most popular and effective Blu-ray to DVD converters, along with step-by-step instructions to make the process a breeze. Whether you're curious about this conversion process or you're ready to take the plunge, we've got all the tips and tricks you need for a seamless and successful transformation. Let's get started and unleash the potential of your video collection.

Part 1. Why Convert Blu-ray to DVD
There are many reasons why people choose to burn Blu-ray to DVD. One of our team members had been in a situation once where he wanted to do the task conversion, and his reason was that he didn't have a Blu-ray player to use on TV and that a DVD player was only available. It may sound funny, but that is a good reason to consider. On the other hand, there are also many other factors that you can take into consideration when deciding whether or not to get a DVD copy of the Blu-ray movies.
Compatibility: One technical fact to be mindful of when dealing with Blu-rays and DVDs is that, Bllu-rays are incompatible with a dedicated DVD hardware player. On the other side, DVD is compatible with almost all Blu-ray players.
Portability: Another reason to need a Blu-ray to DVD converter regarding portability, DVDs are on a higher hand than Blu-ray discs.
Durability: If you want to back up your files in a disc, DVD is less susceptible and more durable than Blu-ray.
Part 2. How to Convert Blu-ray to DVD Formats
Converting your Blu-ray discs into a DVD requires you to have more than one or even two compatible disc drives, which is troublesome for most people. However, with the ripping process below, you can use the digital file as the burning medium. First, you can rip the Blu-ray to digital and then burn the video to DVD. Thus, here are the common yet powerful ways to make a DVD-formated video from your Blu-rays.
1. Blu-ray Ripper
If you want to have the best Blu-ray to DVD converter software, then it is the Blu-ray Ripper you are looking for. There is a reason why the Blu-ray Master has chosen it, even if it may not seem like the obvious choice at first. It will not be the best pick of the Blu-ray Master for no reason, but it is the otherwise. This ripping software is an all-out program that doesn't only provide you with a ripper but a Toolbox of powerful editing tools, such as the video enhancer, compressor, makers, etc., to indulge in. Moreover, this ripping program supports hundreds of output formats, giving you wider options to process various output types. On top of that, it also supports all types of Blu-rays such as discs, ISO images, and folders as your input and produces them for your desired type of video, including 2D and 3D!
Main Features
• Ultrafast ripping process.
• It allows batch conversion.
• Support up to 4K videos.
• Numerous output format selections.
• Powerful video-making and editing optimization.
How to Convert Blu-ray to DVD-Formated Video
Step 1
Click the free Download button and quickly install the ripper on your computer. Then, insert the disc into your computer, and launch the software. Once installed, hit the Load Blu-ray button.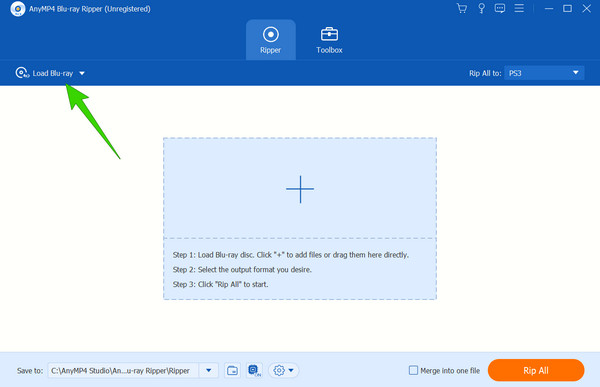 Step 2
Head to the drop-down button on the Rip All to section, and select MPEG format for the format fit to DVD. Otherwise, you can also choose other types if you want.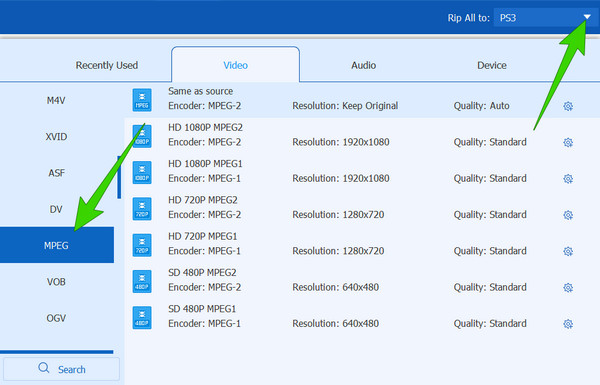 Step 3
After that, hit the Rip All button to rip and export the file.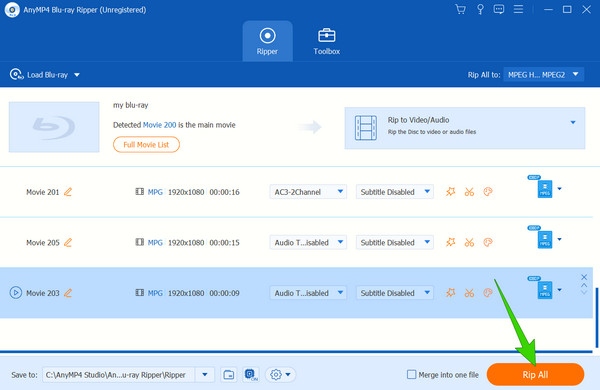 2. HandBrake
Another ripper you can consider is this free and open-source software called HandBrake. It is a converting program with a simple and easy-to-master interface, making you easily perform video transcoding, encoding, and decoding tasks. Furthermore, you can use HandBrake to rip Blu-ray to several digital formats and import different media files to it for conversion. Then, you can easily turn them into common video formats such as MP4, WebM, and MKV. Yes, the output may be fewer, but the output quality will excite you due to its excellency. Thus, here are the simplified steps to help you rip Blu-ray with HandBrake.
Step 1
Fire up this Blu-ray to DVD free converter and wait for it till it reads the Blu-ray you inserted when you click the Open Source button.
Step 2
Once it is read, go to the Format section and choose the MP4 file.
Step 3
Then, click the Start Encode button to begin the conversion process.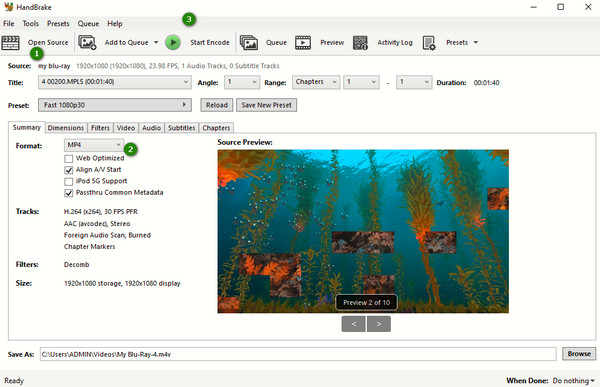 Part 3. Best Way to Create DVD From Blu-ray
After ripping the Blu-ray to digital videos, you can now turn them into a DVD optical disc using DVD Creator of Blu-ray Master. This robust product is developed to create DVD folders and ISO and lets you burn discs. It supports commonly used video formats, such as MP4, MPEG, MOV, FLV, AVI, and hundreds more, as your input for burning. Furthermore, this powerful software provides you with beautiful menu templates that you can also design, background music, and images as you wish. On top of that, it also comes with video editing tools that will enable you to edit and cut the videos before you burn them to DVD.
Key Features
• Burn videos from Blu-ray to DVD discs, folders, and ISO.
• It provides customization and selections for menu templates.
• Rotate, cut, flips, and edit your videos before burning.
• Easy and fast burning process.
Step 1
Open the software after installing it. Then, put the DVD physical disc in your disc drive.
Step 2
Click the Add Media File button and import the videos you ripped. Then, hit the Next button.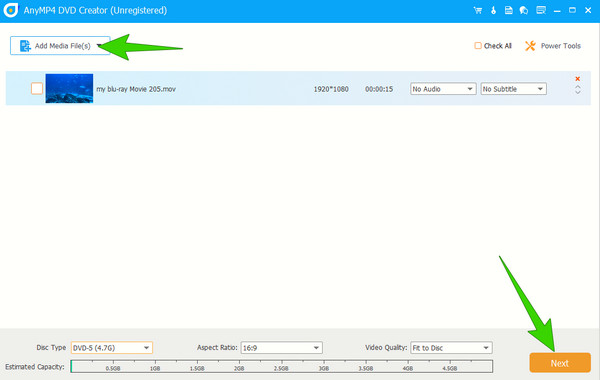 Step 3
Choose your menu template on the next window, and toggle the options you want to add at the bottom. As simple as that. You can now hit the Burn button.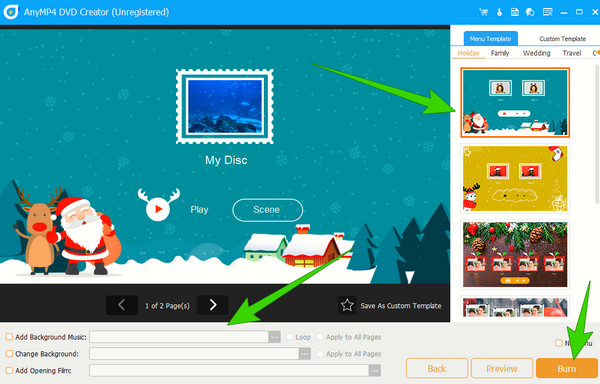 Part 4. FAQs Regarding Blu-ray Transforming to DVD
Can you copy Blu-ray to DVD?
Unfortunately, direct copying of Blu-ray to DVD is not possible when you do not convert or compress the content first. This is because Blu-rays have higher data capacity than DVDs.
Is there a DVDFab Blu-ray to DVD converter?
Yes, there is an available Blu-ray to DVD converter by DVDFab. However, it is not for you if you are hesitant to have pricey commercial software.
Does it take time to convert Blu-rays to DVDs?
Yes, converting Blu-rays to DVDs typically takes time since it involves Blu-ray compression via conversion to standard videos. Thus, having accelerated burning software such as DVD Creator is a must to fasten the process.
Conclusion
Whatever reason you have in mind for doing the Blu-ray to DVD conversion, you must remember that it will take you to transform Blu-rays into digital videos first. This is an efficient way to compress the content to fit it into your DVDs. Hence, make your process quick yet efficiently lossless with the help of Blu-ray Ripper and DVD Creator.