4 Top VHS to DVD Converters: Best Converting Software to Digitize VHS Movies to DVD
VHS players are soon to vanish. This is because of the continuous innovation that will soon cause people to forget where they started. This is why we are not dazed to know that your video recordings and movies on VHS are now gathering dust clouds and being one of the target cleanings in the house. Fortunately, as part of the innovation, there are invented software tools that will enable you to convert VHS to DVD as easily as possible on your computer. Thus, let us have this opportunity to find the best tools for this matter by reading the content below.
Part 1. Can I Convert VHS to DVD
Yes, converting your old movies from VHS or Video Home System and upgrading them into DVDs is attainable. This conversion process will allow you to digitize your old tapes and preserve them in a more accessible and technological way. And here's the good news, when you transfer VHS to DVD, you must know that it is more than using an RCA or S-video cable into your VHS player or more than using a USB cable to link to your PC. Instead, hook up the said devices together, put the VHS tape into the player, then a converting software will do the job.
Part 2. Top 4 VHS to DVD Converters
Top 1. Roxio Easy
Roxio Easy is a VHS-to-DVD converter from Roxio. It is software that is designed specifically for this task. You will be fortunate to know that, as a beginner, his software has an easy-to-use interface and that it also supports video recording from your VHS tapes and transferring them into DVDs via its burning process. Moreover, Roxio Easy comes with editing tools that will help you upgrade the video quality after recording it. Thus, here are the simple steps you can follow in using Roxio Easy.
Step 1
Fire up the software after installing it on your computer. Then, connect the VHS player to your PC using the RCA cable, ensuring secured connections for the video and audio outputs.
Step 2
Go to Settings or the Options menu in the interface of this VHS to DVD recorder and select the VHS player source you want.
Step 3
Then, start recording the VHs video by clicking the record button. Save the captured video when finished, then open the DVD authoring section and upload the recorded video.
Step 4
After that, insert a blank DVD into your optical drive, and hit the Burn button to begin the burning process.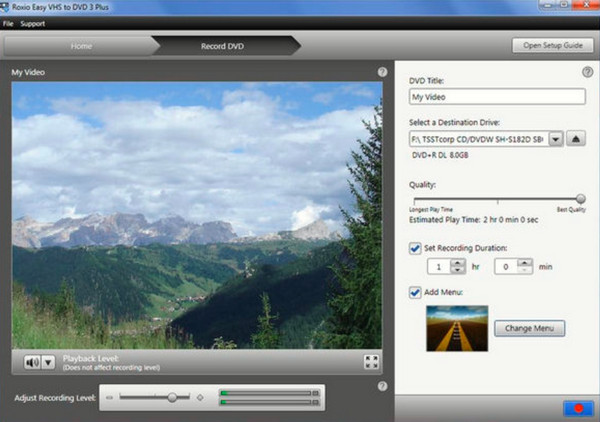 Pros
● Easy to use.
● It is a multifunctional solution.
● It has customization, enhancement, recording, and burning options.
Cons
● The advanced editing features are limited.
● It has compatibility issues.
● The output format options are limited.
Top 2. Honestech VHS to DVD
Another solution in this list is Honestech VHS to DVD. This, too, is a user-friendly software best used by beginners for VHS-to-DVD transfer tasks. Furthermore, it provides you with capturing and editing options along with DVD authoring features that all together fall into simplified procedures.
Step 1
Install this software on your computer before you connect the VHS player using RCA.
Step 2
Then, launch the software once connected and start configuring the audio and video capture settings. Select the VHS player input source to configure.
Step 3
Now start playing the VHS and capture it by clicking the record button. Then, once done, import it when you open the authoring option.
Step 4
Put the blank disc into your computer, and begin to burn the recorded VHS by clicking the Create DVD button.
Pros
● User-friendly with complete solutions.
● It comes with a noise reduction feature.
● Support many input and output formats.
● It provides you with a user guide.
Cons
● It lacks updates.
● The DVD authoring, audio quality, and editing features are limited.
● It has issues with compatibility.
Top 3. Pinnacle Studio
Although Pinnacle Studio is not like the first two, which are dedicated VHS and DVD recorders, it still greatly affects processing the VHS content to DVD conversion. This software is designed for editing and conversion of VHS to DVD. Furthermore, it offers many features that mostly cater to digital media types.
Step 1
Using a different tool, record the VHS content. Once done, launch your newly installed Pinnacle Studio and hit the Import tab to upload the recorded VHS.
Step 2
Once imported, start authoring the DVD by configuring the menu, setting chapters, and other settings for the DVD.
Step 3
Now start burning the VHS content into a blank DVD disc you inserted into your computer. Click here to learn how to convert VHS to MP4.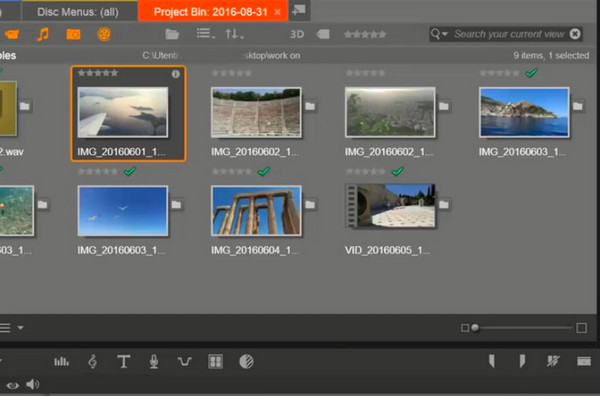 Pros
● It offers advanced editing features and customization for your VHS.
● Easy to navigate.
● With a wide array of output formats.
Cons
● It doesn't have a VHS to DVD recorder.
● It has a relatively high system requirement.
● It is a bit pricey.
Top 4. Nero Platinum
Lastly, we have this Nero Platinum, a flexible multimedia tool that is capable of converting VHS movies or videos into a digital file such as a DVD. Similar to the previous ones, you can also find many features and tools in this software, such as authoring DVDs, disc burning, and enhancing videos. However, just like the previous one, you will need a separate VHS capturer before Nero Platinum can convert your VHS into DVD. Hence, this is how to convert VHS to DVD.
Step 1
Launch the software after installing it on your computer.
Step 2
Insert the blank DVD disc into your optical drive, and import the recorded VHS to the software's user interface.
Step 3
Enhance the video, then begin to author the DVD. After that, click the button that will enable you to burn the DVD.
Pros
● It is comprehensive software.
● The advanced video editing tools are evident.
● It has reliable capabilities for burning discs.
Cons
● It has a learning curve process.
● It is costly.
● With a high system requirement.
Bonus: Video Converter Ultimate - With the Best DVD Ripper of All Time
If you are looking for a DVD ripper that will rip and convert your DVD movies into your desired digital video format losslessly, then you are in need of this Video Converter Ultimate. It is software rich in amazing features such as a converter, video and audio editing tools, a movie maker, and a lot more.
Key Features
● Rip any kind of DVD into a high-quality output.
● Support for more than 500 various media formats.
● Enhance your videos to your preferences with the enhancements and editing tools available.
● Accelerated ripping process due to its advanced technology infusions.
Part 3. FAQs About Converters of VHS to DVDs
What material should I prepare before converting my VHS to DVD?
You will need to prepare the VHS tape, VHS player, blank DVD disc, VHS capturer, and a VHS to DVD converter tool.
What is the advantage of converting VHS tapes to DVDs?
DVD has wider compatibility with modern devices; this conversion process will help you in the longevity of the VHS movie's life.
Can I do the VHS to DVD conversion myself without professional assistance?
Yes, you can. However, you will need a comprehensive instruction guide to follow to have predictable success in the conversion process.
Conclusion
You can now easily digitize your VHS movies through the VHS to DVD converters presented above. And with the simplified steps added, you can do the job even for the first time. On the other hand, if you want to convert your DVD to a more accessible media file, use the Video Converter Ultimate's DVD ripping tool.