Create DVD/CD to ISO: A Tutorial for Windows and Mac Devices
Do you have a collection of DVDs or CDs stored in their organizer for a decade now? They probably contain some of your favorite footage, song recordings, or even memorable pictures. Instead of harboring sadness for seeing them lying around the dust, all you can do is extract these files and convert them to ISO. Then, you have all your worries washed away and see them on your hard drive.
Of course, you will need the best tool that successfully rips your files and turn them into ISO. Henceforth, we will guide you on how to create an ISO from DVD/CD as quickly as A, B, and C for today's topic. But, before anything else, you need to know that ripping DVD files from copyrighted materials is highly unlawful. We strongly suggest that you only use personal DVDs to avoid legal problems.

Part 1. The Best Method to Create ISO from DVD/CD
If you are looking for the right one to create an ISO file from an optical disc, you have got AnyMP4 DVD Copy. This program has a straightforward interface that allows even the rookie to rip DVD files and turn them to ISO successfully. It can clone any footage, whether you are a Mac or a Windows device user.
Moreover, AnyMP4 DVD Copy has powerful features that suit your needs. First, it has 3 copy modes: the Full Copy, Main Movie, and Custom. Using the Full Copy or Main Movie saves your time scanning around the list of files on a DVD that you only need to save. As for the custom mode, you can decide on the specific ones. But there's more. Usually, some notions arise that copying a DVD to a hard drive takes forever. However, AnyMP4 DVD Copy solves this problem by performing a dual-core CPU, making the copying speed faster than any tool out there.
And now, here is the detailed guide for you to make ISO from DVD. Without waiting any longer, let's get it on.
Step 1
Install the best DVD to ISO creator
First, click the Free Download button below and wait for the download progress to finish. Then, double-click the program and follow the installation process in the dialog box.
Step 2
Insert DVD/CD on the drive
After the installation process, wait for the program's launching. Also, start to mount your disc on your disc drive. Back at the program, drop down the SOurce tab and select the Load DVD Folder. Then, select the target disc you want to copy into an ISO file.
Step 3
Select the Copy Mode
After the DVD files are loaded, choose the files you want to save. On the interface, select the Full Copy if you need all of the data in your DVD. By clicking the Main Movie, you will only have the central footage. On the Customize menu, you can select the part you prefer.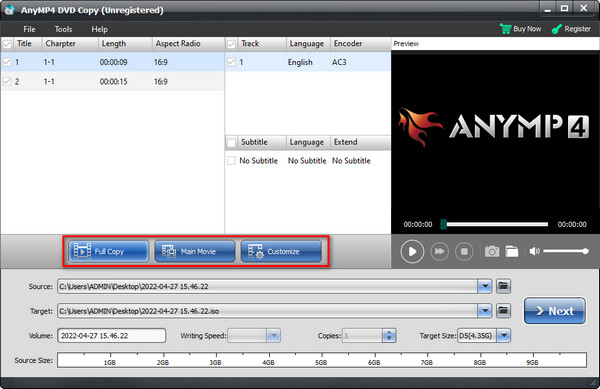 Step 4
Save DVd to ISO file
Now, go to the Target tab and expand it. From there, select the Save as ISO(*.iso) option. Then, hit the Next button to proceed with the final setup. On the options, you can check the Remove Menu, Skip Menu, and even the Region Code Protection according to your requirements. When ready, hit the Start button, and you are done!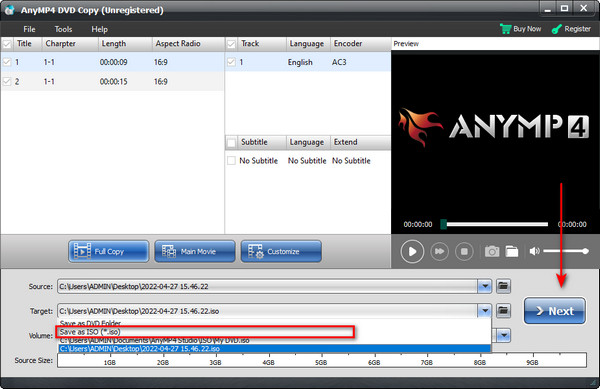 Part 2. ISO form DVD/CD: The Default Ways on Windows
The truth is that there is no built-in program to create ISO from DVD on Windows devices. However, you can use third-party tools, either free or premium, that do the job like a family.
For Windows, if you need one, you can install BurnAware on your device. This program is a freeware that creates ISO from discs and acts as a DVD and Blu-ray disc burner. Aside from these, it can troubleshoot disc problems.
Read the steps below on how to create ISO from DVD on Windows 10.
Step 1
After launching the program, go to the column of ISO Images of BurnAware and select Copy to ISO. Also insert your physical DVD/CD on your drive.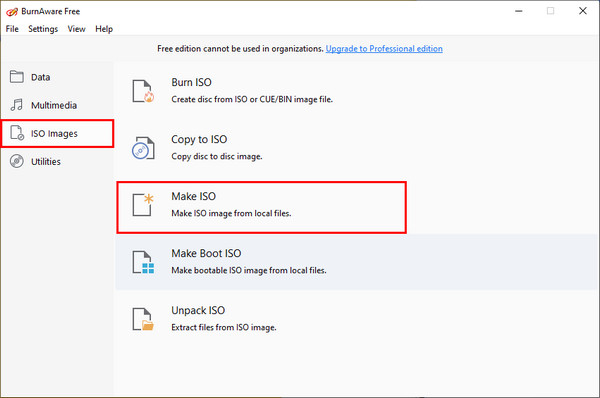 Step 2
On the new window, expand the list of your available discs on the computer and select the one you target to create an ISO from.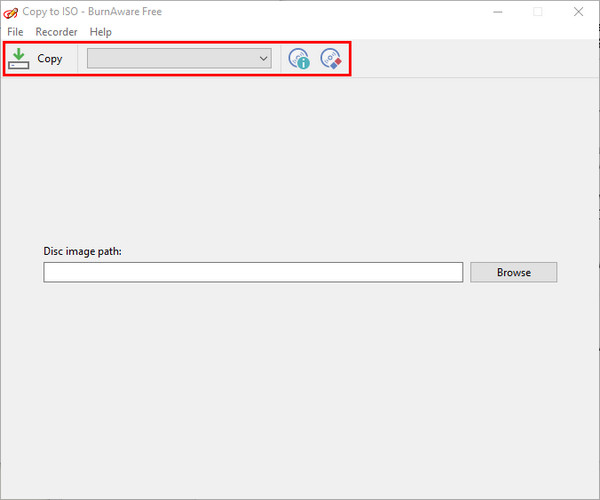 Step 3
Then, Browse your output path and create a name for it on the textbox of the File Name. After that, press Save.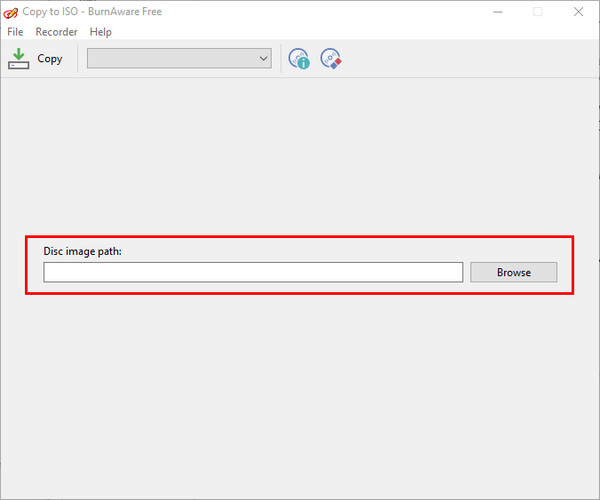 make sure that you change the highlighted word on the command line in your own file name.
Part 4. FAQs DVD/CD to ISO
Can ripping create damage on my disc?
Although you may hear noise on your drive while a specific program does the ripping process, it will not harm your precious discs. When you insert your DVD on for playback, circumventing the disc is the same as ripping. If you want to protect your disc, you may apply interventions such as putting it on proper storage and cover.
Do my ISO files contain the same size as the DVD?
When you transfer your DVD/CD data to an ISO file, all its content remains identical. Therefore, ISO files and DVD file sizes do not change. However, if you want to compress your video files, such as footage, to another format, you can use AnyMP4 DVD Ripper.
How to mount and extract an ISO file on a laptop?
When opening an ISO file on your laptop, the way to do it is similar to when playing a literal disc. Go to the file location of your ISO, hit right-click on it, and select Mount.
Conclusion
Standalone DVD players are becoming obsolete, but that does not mean goodbye to your precious discs. Using the tools and methods mentioned above, you are now ready to play your files on your computer, laptop, and even phone! To make ISO from DVD/CD is easy, especially with AnyMP4 DVD Copy.