NTSC V.S. PAL: Breaking Down for The Two Visual Encoding Systems
NTSC and PAL are two types of color encoding systems that can impact the visual experiences of content viewed on analog televisions as well as videos viewed on HDTVs. For the past decades, the ability to create, store, edit and share videos has become easier than ever before for amateurs. It is largely because the technological innovations that has disrupted the film industry at all. However, if you are not familiar with NTSC and PAL, even though they are important if you still watch videos and DVDs on TVs. You can learn more about the review of the two color encoding systems.

Part 1: What Are NTSC and PAL, NTSC V.S. PAL
As color television began to replace black and white, companies in America were relying on a number of methods to encode color for broadcasting. These methods are exclusive and conflicted with each other. Therefore, the National Television System Committee was released a single standard in 1953 named NTSC. From then on, this color encoding system was used across the nation and various TV sets.
Unlike NTSC, PAL is the color encoding system used by DVD players and televisions outside of United State, such as Asia, Oceania, Europe, Africa and parts of South America. PAL format was released in the late 1950s to handle with the drawbacks of the NTSC system. When color is encoded with NTSC system, the signal will lose clarity under poor conditions. It means that the video quality will become poor due to bad weather, rough terrain, large buildings and more. PAL, on the other hand, reverses every second line in the signal to enhance the quality.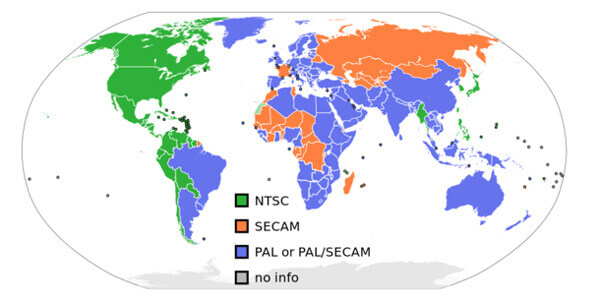 As you can see, both NTSC and PAL are old color encoding systems. You may wonder why they are still used. In fact, they are not used in the same way that they were originally designed. Modern televisions do not enforce to use the systems. But you can still find the NTSC or PAL label on the DVD. They decide the timings, resolutions and refresh rates. Moreover, NTSC and PAL systems are still used for content regionalization, in order to protect national copyright and prevent from being distributed illegally.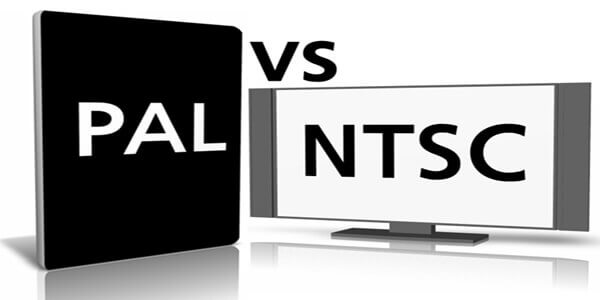 Part 2: NTSC V.S. PAL, Which Is Better
Most of the DVD authoring software allows you to choose the NTSC or PAL format when writing videos to DVDs. Which one you should choose? You should learn the differences between NTSC and PAL:
1. Regions. As mentioned previously, both the NTSC and PAL systems are primarily used for regionalization. Once a DVD is labeled by one system, you cannot play it anywhere. NTSC format is more limited to North America, Japan, Philippines, South Korea and some countries in South America. Compared to NTSC, PAL is widely distributed around the world, including most of Western Europe, China, South Asia, India, Australia and most countries in Africa. There is another system, called SECAM, is used in France, Russia, and parts of Africa.
2. Color encoding. Though NTSC and PAL are both color encoding systems, they work in different ways. The PAL system manages color automatically with the phase alternation of the color signal, which can remove hue errors and chrominance phase errors. However, NTSC system allows you to control the color correction manually. It means that you can adjust it if the colors are abnormally when using the NTSC system.
When it comes to decode, PAL can be decoded with two NTSC decoders. By switching between the two lines, it is possible to decode PAL videos without delay errors.
3. Video quality. The video quality is one of the main differences between NTSC and PAL systems. PAL goes out at 50 fields per second as Europe uses the 50hertz power supply. A PAL television display 25 frames per second, so the motion seems faster. Though PAL produces fewer frame per second than NTSC, it displays more lines. The NTSC television sets broadcast 525 lines, while the PAL sets broadcast 625 lines of resolution. Since the lines increase, the amount of visual information is more. In short, PAL system produces better video quality than NTSC system.
4. HDTVs. Even though we have entered the digital age and digital signals and HD have become the universal standard, there are still variations. The major visual difference between NTSC and PAL systems for HDTVs is the refresh rate. PAL system refreshes the screen 30 times a second, while NTSC keeps screen refresh for 25 times per second. In result, the HDTVs using a PAL system may display a slight flicker tendency, though most people cannot notice it. Generally speaking, NTSC and PAL systems produce the same image quality for HDTVs, but the high-resolution content performs better with NTSC system on HDTVs.
Part 3: How to Convert Between NTSC and PAL
What should you do if your device only supports NTSC, but the purchased DVD is a PAL one? You can convert NTSC to PAL or vice versa. Bear in mind that converting a PAL movie to an NTSC will add 5 extra frames per second, and the opposite will remove 5 frames. In the method, the video may seem jerky or unnaturally slow. AnyMP4 Video Converter Ultimate is the professional video converter that enables you to change between NTSC and PAL with the original quality.
1. Convert NTSC to PAL, or vice versa as well as the video/audio formats.
2. Support a wide range of video and audio formats including DVD discs.
3. Provide methods to enhance video quality automatically while conversion.
4. Offer extensive video editing tools, like crop, clip, rotate, merge, etc.
5. Adjust conversion speed, frame rate, resolution, aspect ratio and more.
Conclusion
The article shares the differences between NTSC and PAL color encoding systems. When making DVDs, some software allows you to decide the encoding system. In such case, you can simply make a decision after you read our comparison carefully. If you accidentally encode the film in the wrong format, you can also use video converter change from one system to another with ease. If you have other questions, please leave a message in the article.