Descriptive DVD+R VS. DVD-R: Learning Their Differences and Analogy
Whether the dash or plus, DVDR is still one of the important formats for optical media storage. Both the positive and negative symbols have their own distinction as they each have distinct features. Therefore, if you are about to buy DVDs for burning purposes, you must know enough about these types for proper submission to DVD burning. DVD-and+R's technological landscape has interesting differences which you will learn as your continue to scrutinize the information below.

Part 1. DVD-R and DVD+R Definitions
What is DVD+R?
Digital Versatile Disc + Recordable is the verbatim DVD+R. It is a type of DVD format that lets you record content onto an optical disc for playback on different DVD players. This storage media is a write-once medium. This means the data cannot be erased and overwritten once it is already recorded in it. Furthermore, DVD+R discs have single-layer versions with 4.7 GB capacity, while the dual-layer version or the DVD+R DL has an expounded capacity of 8.5 GB.
One of the good features of this type of DVD is its compatibility focus. It aims to improve the playback of a greater number of players, and it is infused with the ADIP system making it more expensive than its counterpart, which is the DVD-R.
What is DVD-R?
DVD-R, or the Digital Versatile Disc Recordable, on the other hand, is a DVD format that also allows you to record and store content. It also comes with a write-once functionality with almost the same capacity as the +R. However, unlike its counterpart, this DVD with minus R lacks a technology called bit setting that enables you to change the disc's book type. This lacking can potentially affect the compatibility with the earlier DVD players.
Part 2. Comparison Between DVD+R and DVD-R
To give you more information about the similarities and differences between DVD-R and DVD+R, a comparison table is presented below.
| | | |
| --- | --- | --- |
| Particulars | DVD+R | DVD-R |
| Characters | Released in 2002, with a pronunciation of DVD plus R. It was developed with the alliance of DVD+RW. | Released in 1997, with a pronunciation of DVD dash R. The DVD forum developed it. |
| Functions | To store recorded digital content in an optical disc in a write-once process. | To store recorded digital content in an optical disc in a write-once process. |
| Capacity | 4.7 GB - 8.5 GB. | 4.7 GB - 8.5 GB. |
| Data Handle | With a strong error-handling mechanism for a more integral recording. | With a strong error-handling mechanism for a more integral recording, but without the bit setting technology. |
| Layers | Single and dual layers. | Single and dual layers. |
| Compatibility | The bit set makes it more compatible with many DVD players. | Generally compatible with older DVD players. |
Despite their differences in many aspects, their data longevity, in other words, how long do these DVDs last, is the same.
Part 3. Best Way to Open DVD-R and DVD+R
As innovation progresses, DVDs may soon be left behind, but we have the best-innovated player that supports the latest optical discs and your DVD-+R and DVD-+RW discs.
Blu-ray Player Best Choice for Blu-ray Master
Blu-ray Master's Blu-ray Player has nailed it. This player, available on Windows and Mac, has many good functions and features, making it the best player to open your DVD-+R without a hassle. Furthermore, it also allows you to play 4K and Ultra HD contents of Blu-ray in ISO image and folder. Another reason to lavish on it is its ability to open discs of any DVD region while giving you a lossless playback experience anytime.
Moreover, this Blu-ray Player is integrated with advanced technologies such as DTS, Dolby, and Intel, making it extra powerful. Also, it comes with an elegant, simple, and neat interface with flexible playback controls and extra functions like playlist creator and snapshot, not to mention the multiple options and selections to help you customize your playing movies, such as the effect settings for saturation, contrast, brightness, hue, and gamma.
Key Features
• Playback DVD-+R, DVD-+RW, and all kinds of Blu-rays without a hassle.
• Provide movie playback in a theater-like ambiance.
• Advanced technologies empower it.
• Hardware accelerated for playback and process.
• Snapshot to capture and produce high-quality photo display.
• Tweak the content with multiple editing tools.
How to Open DVD-R and DVD+R Smoothly
Step 1
Download Player
Click the download button you see above and download the appropriate version for your computer. Again, you can install it on either a desktop or Mac.
Step 2
Fire Up the Blu-ray Player
Once the player is installed, you can now place your DVD disc into your PC's optical drive. After that, open the player, asses the player's main interface, and hit the Open Disc button. Then, choose the DVD you just inserted from the popped-up small window. Upload it by clicking the OK button, and it will start playing the content.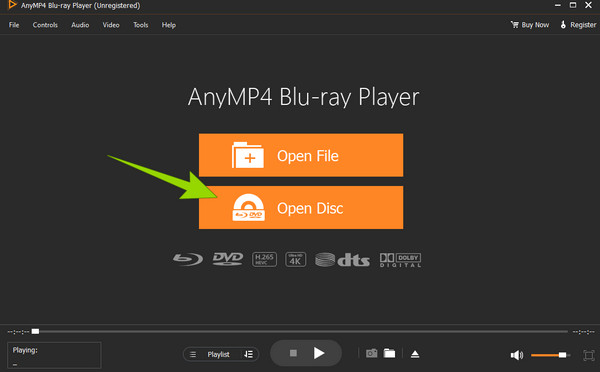 Step 3
Navigate the Playback Controls
Once you are on the playback window, you have the freedom to navigate or control the playback control of the player. Freely access the controls such as Pause, Next, Stop, Previous, and more. You can also notice the Camera icon and those control buttons, which screen capture your favorite movie scenes.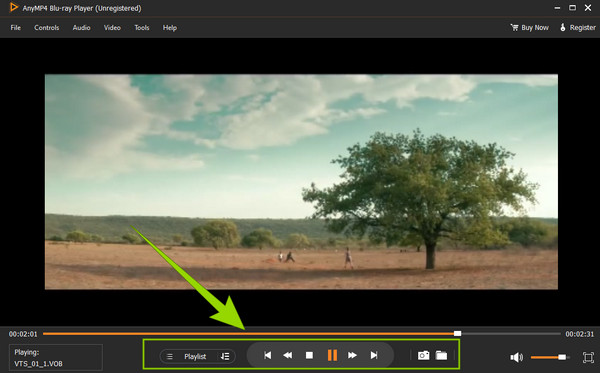 Step 4
Eject the Disc
When you are done watching, you can unload your DVD disc by clicking the Eject button with the triangle shape near the Camera button. And that is how the smooth playback capacity for DVD-+R.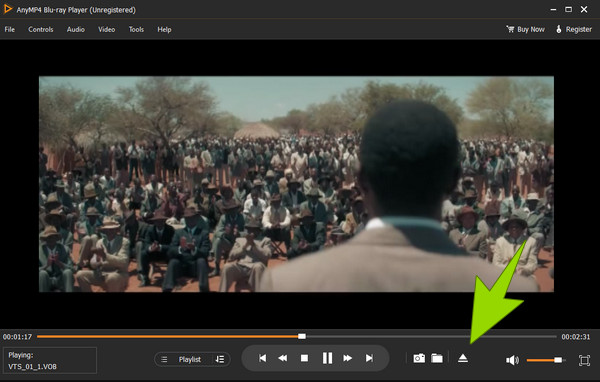 Part 4. FAQs about DVD-+R
Will DVD-R work in a DVD player?
Yes. DVD-R generally works with nearly all standard DVD players.
Can PS5 play DVD-R?
Yes. PS5 has a built-in Blu-ray player that is also capable of playing standard DVDs, including DVD-R.
Can Blu-ray players play DVD-R?
Yes. Blu-ray players are designed to support the older formats of discs like DVDs.
Can I erase a DVD+R disc?
No. DVD-+R are discs that have a write-once characteristic that cannot be erased.
Can I use a DVD+R as an audio CD?
Although DVD+R can read audio files, it, unfortunately, use as an audio CD alone. It is because it is designed to store video content for playback.
Can I use DVD+R to back up my files from my computer?
Yes, you can use the DVD+R to store your files to back them up. However, you can only burn with it once.
Conclusion
This article is a descriptive post about DVD-+R. You learned that these DVDs are similar with only a little difference. Also, they can only be written once, which therefore is your warning to always double-check the contents you are about to transfer to them. Because once you have transferred or burned the contents to such DVDs, you won't be able to modify and delete them. Meanwhile, if you want an excellent DVD and Blu-ray player, you can always count on the Blu-ray Player brought to you by Blu-ray Master.