MakeMKV Review: Learn If It's the Best DVD Ripper Software For You
You are here on this post to know if this MakeMKV should be your choice, aren't you? Then, allow this article content to unleash the honest review made by yours truly together with our team. With DVD ripping, you must have a great ripper that will enable you to rip your target DVD files confidently. Yes, there are users who are satisfied with using MakeMKV. But unfortunately, there are also who are not. Therefore, it is better to lean on the hands-on experience of ripping DVDs with the specific tool you are about to use than the hearsay. Therefore, discover what we and the internet say about this subject software by further reading the content outlined below.
Part 1. What Precisely is MakeMKV
MakeMKV is a free DVD-ripping software that will enable you to convert your movies to MKV, as its name suggests. In other words, this tool is also called a transcoder that transforms the clips, even the encrypted ones from discs, into a set of video files in MKV format without any changes in quality. Another good feature that you can use of this tool is its ability to stream decrypted clips to your favorite media player device without the need for an intermediate conversion. When it comes to its user display, MakeMKV has an easy-to-use interface that doesn't require any technical configuration aside from the output directory setting.
Furthermore, we cannot limit MakeMKV to Blu-rays, for it also works with ISO files that you can save on your desktop or Mac. However, as one of the popular disadvantages of this DVD ripper, you need to be prepared.
Key features of MakeMKV
It can read encrypted Blu-rays using the latest versions of BD+ and AACS.
Workable on DVDs, Blu-rays, ISO, and folders.
It comes with a one-click converting procedure.
Keep movie chapter pieces of information and preserve the tracks of videos and audio.
Part 2. How to Use MakeMKV
You can definitely use MakeMKV for free, as it offers a 30-day free trial period. However, with this freeware, expect to have some limitations to the point that you can't even use its premium tools unless you pay its due price for more. Meanwhile, below are the guidelines you need to follow to assist you in using this DVD ripper for the first time.
Step 1
Install the MakeMKV on Mac, Windows, or Linux computer and launch it once it is ready.
Step 2
You may insert the disc into your computer's disc drive upon launching. Then, click the File menu on the tool's main interface, followed by the Open Disc tab, to choose your target disc.
Step 3
Once the disc is initialized, go to its content and tick the ones you want to rip. Then, go to the Output Folder, set your preferred file destination, and hit the Make MKV button to start the ripping process.
Part 3. MakeMKV Best Alternative
As mentioned previously, the freeware version of MakMKV has limitations. On the other hand, it is also evident that even with its premium version, you can only produce ripped files in MKV format. Thus, if you want a much better ripper and converter that you can use on your computer, then you should take the time to know the best MakeMKV alternative below.
Video Converter Ultimate
Video Converter Ultimate is a video converter that also comes with many beautiful key features, including a DVD Ripper. Yes, you knew it right. This software is an all-in-one tool that can make, rip, and enhance videos to your favorite formats. Focusing on its ripper, it will not only allow you to rip DVDs, but also Blu-rays and transform them into more than 500 different formats. Therefore, if you need an MP4, WMV, AVI, FLV, MOV, and MKV file, you can easily achieve them in a one-click procedure! You can also choose your desired output quality, such as HD, 4K, 5K, and even 8K! Furthermore, this MakeMKV free alternative of Blu-rays and DVD ripper feature provides editing functions that will help you customize your output display and other content excellently.
What's more, you can also enjoy its MV maker, video collage maker, and Toolbox, which literally has all video and audio editing tools best for experts and beginners. This Video Converter Ultimate is really something that you shouldn't miss if you are looking for a supreme ripper, converter, or video editor. Hence, if you are convinced you need it, please see the simple steps to rip your DVDs using this ultimate software.
Key Features
An all-in-one video converter and ripper with tons of tools to enjoy.
Convert your movies to any of the 500 plus different formats it supports.
Advanced technologies that support you, like AI, GPU, and hardware acceleration.
High to the lossless output quality of ripping and conversion.
Step 1
Install this MakeMKV alternative freely on your computer. To do so, click the Download buttons that you see above.
Step 2
Run the software once installed and immediately go to the Ripper menu. You may now load the disc that you want to rip. Then, hit the Plus icon on the software's main interface and select the disc you loaded.
Step 3
Once the DVD files are loaded, select an output format you want to use. Then hit the Rip All button.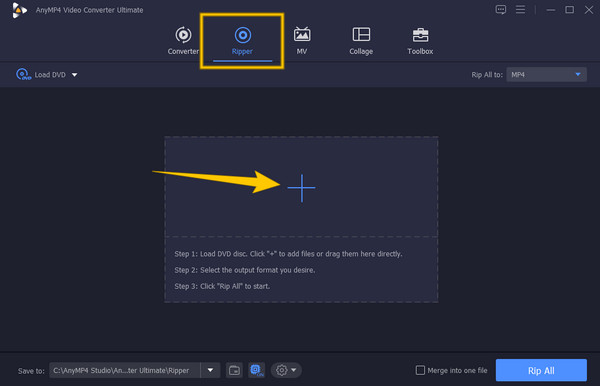 Further Reading
How to Convert ISO to MKV on Windows and Mac [Easy-to-Follow]
How to Rip DVD to MP4 with 14 Free Methods on Windows and Mac
Part 4. FAQs about MakeMKV and Its Alternative
MakeMKV vs. HandBrake, which is better?
It depends on your priorities. If you want a tool that can preserve the original quality of your video, MakeMKV is the better option. On the other hand, if you want a tool that directly handles unencrypted discs and converts them to MP4 and WEbM aside from MKV, then HandBrake should be your choice.
Can I make a track with the MakeMKV alternative?
Yes. Video Converter Ultimate allows you to make your own track of movies after ripping them from a DVD. In addition, it comes with a merger tool that will merge all the video files you work on by just ticking it.
Can I playback the ripped DVDs on my mobile phone?
Yes. With Video Converter Ultimate, you can rip your DVDs into a high-quality output playable on iPad, iPhone, and Android.
Conclusion
This article post contains an honest opinion about MakeMKV. In addition, for the benefit of the doubt, we have included the best alternative you can have if the subject software cannot provide you with what you need or expect. Indeed, this Video Converter Ultimate is something that is not only recommended by our team but by the other analysts who have hands-on experience with it. And now, you have all the chance to try it yourself, and give us your thoughts about it.