When you have some Blu-ray discs, you might find the Blu-ray from a different region. You should know the different regions of the Blu-ray and use the region free Blu-ray player software to playback Blu-ray files. Free Blu-ray Player should be the powerful region free tool that can meet your requirements.
Regions for Blu-ray discs
If your favorite Blu-ray was first released in the United Kingdom, you should check whether the free region Blu-ray disc is available. It would be a large amount to find region free Blu-ray Player from Best Buy or use PowerDVD Blu-ray code free. Region free Blu-ray player software should be the best solution for you.
Before you use the Blu-ray region killer, you can find the region map for Blu-ray discs as below. Whether you need to play Blu-ray discs with any region, you can use Free Blu-ray Player software to watch the Blu-ray on PC without region restriction.
Region A: U.S., Japan, Latin America, East Asia (except China).
Region B: Europe, Africa, Australia, New Zealand.
Region C: China, Russia, India, remaining countries.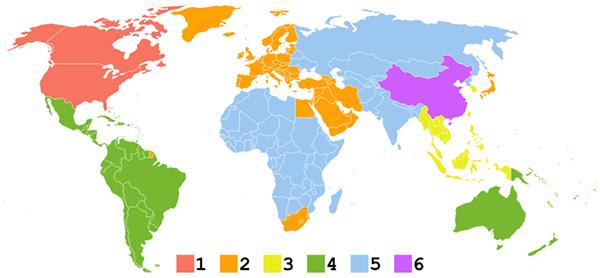 How Region Free Blu-ray Player software works
Free Blu-ray Player can play Blu-ray disc with region code removed automatically. Whether you are dealing with Blu-ray discs, Blu-ray ISO files or ripped Blu-ray videos, you can get the Region Free Blu-ray Player to work according to your requirements. It should be the initial Blu-ray software to work with the purchased Blu-ray discs.