DVD Storage Capacity: Overview and How to Hold More Storage
You might think that all DVDs are the same since they physically look like one. Hence, in most cases, when you need to pick one for yourself, you must know the DVD capacity or its ability to store data. This is especially true when trying to burn a new DVD, and you must always consider the size or amount of data that the DVD can give you. Therefore, you will need this article that outlines the information about the various DVD types with their corresponding capacities and the best tips to get more storage capacity for your DVD contents.
Part 1. What is DVD Capacity
The capacity that a DVD has something to do with how much data a DVD can hold. This capacity depends on the format that the DVD has. Most of the time, there is a variation in the claimed capacity versus the actual capacity due to technical factors and formatting factors. And so, to give you some information on the commonly used DVd formats with their capacity, here are the corresponding details.
| DVD Format | Claimed Capacity | Actual Capacity | DVD Layers | DVD Capacity in Minutes |
| --- | --- | --- | --- | --- |
| DVD-18 | 17.1GB, which gives 8.5GB per side. | 15.9GB. | 2 | 485.28 minutes |
| DVD-10 | 9.4GB, which represents 4.7GB per side. | 8.75GB. | 1 | 266 minutes |
| DVD-9 | 8.5GB. | 7.95GB. | 2 | 240 minutes |
| DVD-5 | 4.7GB. | 4.37GB. | 1 | 120-130 minutes |
DVD-18
Starting up with this DVD-18, which has the highest DVD storage capacity among the most used DVD formats above. This type of DVD is a dual-layer and a double-sided kind of disc. Each side has the capability to store around 8.5 GB of media data, which offers you up to 17.1GB capacity.
DVD-10
Next is this DVD 10 format that has a total of 9.4GB capacity. This disc format is infused with a single-layer disc and double sides. Each side of this format is capable of storing up to 4.7GB of media data.
DVD-9
Moving on to this dual-layer disc format, the DVD 9 capacity is approximately 8.5GB. With this size, you can already store a movie with 240 minutes duration. Moreover, it comes with two layers, and each layer is capable of storing 4.7 GB of input.
DVD-5
Lastly, a DVD format contains a single-layer disc, DVD 5. This format actually has the smallest capacity storage among them all. The DVD 5 capacity claims to be 4.7 GB, and it is 4.37GB for the actual.
Please note that the slight difference between the discs' claimed, and real usable capacity varies due to the discrepancy in the computer decimal system. Wherein the 1GB is equal to 1,073,741,824 bytes as read.
Part 2. 2 Ways to Save More DVD Capacity
Suppose you want to save more capacity for your DVDs. In that case, you should utilize the 2 best ways or tips below to do so.
1. Rip the DVD to Digital Video
Yes, ripping the DVD movies into a digital video will let you save a DVD GB storage capacity. But to do so, you must have an all-out and remarkably excellent ripping tool to use, like the Video Converter Ultimate. Although its name says that it is for video converting, this software also comes with a DVD ripper that will enable you to rip any DVD format into your target digital videos. Yes, it provides a powerful ripper that supports more than 500 media formats for your outputs. Furthermore, advanced technologies such as GPU acceleration, Ultrafast conversion, and Artificial Intelligence empower the tool more. Imagine, it works to rip and convert files up to 70 times faster! Such a wise decision to transcode data from DVD for size preservation.
Key Features
● Support various types of DVD to rip.
● Support all popular digital video formats for the output.
● With editing and enhancing tools to tweak during the ripping and conversion process.
● Subtitle and audio track preservation and selection.
Step 1
Get the software for your computer by using the Download buttons above. And while installing it, you can prepare your DVD disc to insert it into your optical disc. Then, launch the software when done installing it.
Step 2
On the main interface, go to the Ripper menu and hit the Load DVD tab menu or the Plus icon at the center to import the DVD you have inserted.
Step 3
Once the DVD is loaded, you can select a digital output format. To do so, go to the Rip All To section at the top right corner, and hit the Arrow button there. After doing so, a new window will prompt, where you can choose a video format.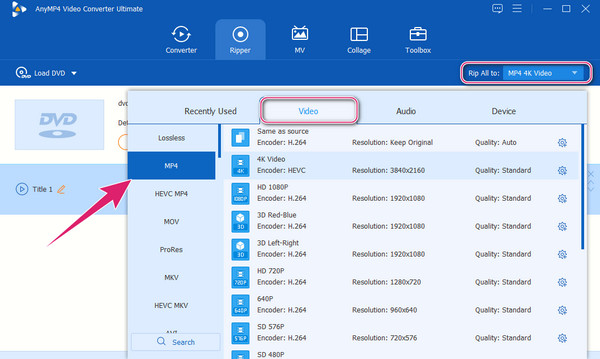 Step 4
Afterward, you will be brought back to the main interface, where you need to hit the Rip All button. This will initiate the fast DVD ripping process.
2. Compress DVD Disc
You can also use the AnyMP4 DVD Copy to transform your DVD 5,8,9,10 and even the DVD R up to their maximum storage capacity. This software is a remarkable burning program that allows you to copy your DVD into your computer's hard drive. It lets you clone and save your DVD movies as ISO files and folders. Meanwhile, this DVD copy software has the ability to compress your DVD 5 and DVD 9 without losing their quality. Here are the steps to do so.
Step 1
Grab a copy of the program on your computer, and launch it. But before launching the software, ensure you have inserted the DVD disc into your computer's disc drive. Now upload the DVD when you hit the Arrow button of the Source section.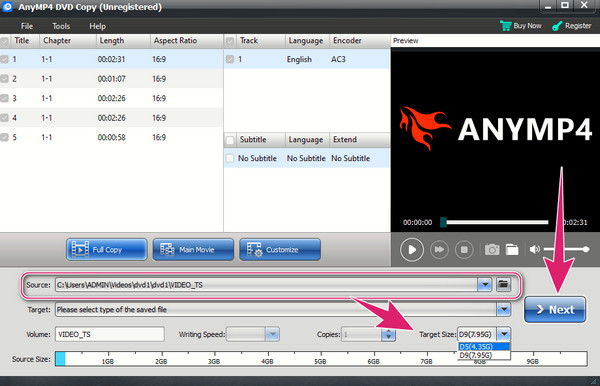 Step 2
Afterward, select your desired size in the Target Size section. Then, hit the Next tab.
Step 3
Finally, hit the Start button on the next page to begin the compression.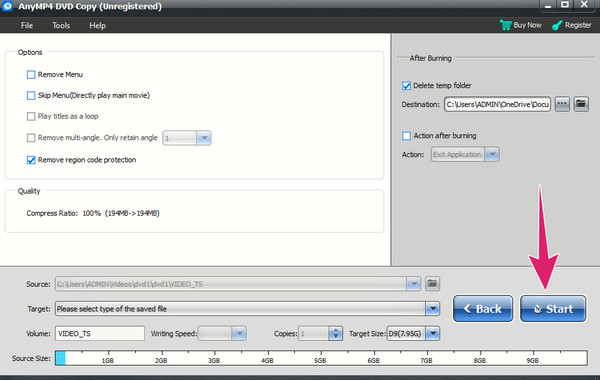 Part 3. FAQs about DVD Capacity
How much data does a DVD-R hold?
Standard DVD-R has a capacity of 4.7GB.
Can I save a high-definition movie on a DVD?
It depends if the storage capacity of your DVD is capable of holding the size of the HD movie you want to store.
Is it possible to increase the storage capacity of a DVD?
No. It is impossible to increase the capacity of the DVD. Hence, select a DVD format that will meet your storage requirement if you want to have high storage.
Conclusion
The DVD capacity depends on the type of format your DVD has. If you want to expand the capacity, unfortunately, it is impossible. However, you can always do it in reverse. Instead of expanding the storage capacity, you can just shrink the DVD content by ripping it or compressing it using the 2 ways for turning your DVD into a digital media file to play on all media players out there. Hence use Video Converter Ultimate.