Learn How Long Does DVD Last and Ways to Store Your DVDs Safely
How long does a DVD last? To provide you with the answers that we gathered from different studies of professionals, this article post has been made. There are some speculations that DVDs can last up to 200 years. But could this be true, especially if we know how sensitive the discs are when being handled? Therefore, to shed some light on the factors that influence your belief in the longevity of DVDs, scroll down to see the expanded details.

Part 1. How Long Do DVDs Last
| Type of DVD | Lifespan |
| --- | --- |
| DVD | 50 years |
| DVD-R, DVD+R, and CD-R | 30 + years |
| CD-RW, DVD+RW, DVD-R | 25 + years |
| DVD-RAM | 25 + years |
As the table above shows, not all DVDs have the same life expectancy. The longevity shows a range from 30 years to 100 years, depending on the type of DVD. And this particular number of years will be met if only the discs are stored properly. Also, the longevity of DVDs depends on various factors such as manufacturing quality, usage rates, and environmental conditions. To give you a thorough understanding of the factors that affect the fact of how long a DVD can last.
1. Manufacturing Quality - The durability of the discs always depends on their manufacturers on how they are made. The more the disc is durable, the more years it lasts.
2. Usage Rate - This talks about how often the DVD is being used. Discs that are being played every day, or if not often, can be worn out easily and may give scratches to the physical damage of the disc, affecting the disc's lifespan.
3. SEnvironmental Conditions - Oxidation such as sunlight, humidity, heat, and exposure can cause rot to the DVD. And this is life-threatening to your DVD discs as it can result in easier damage.
Part 2. How to Keep DVDs Longer
Based on the factual information above, there are reasons that will cause your DVDs to lessen their lifespan. Thus, here are the suggested methods that you can follow to keep your DVDs longer.
1. Purchase high-quality DVDs.
When you buy discs, go for the good brands that sell high-quality discs. Also, if you may choose, go for the discs with gold reflective layers.
2. Keep the discs on their respective cases.
One of the most effective ways to keep the DVDs longer is by storing them in their jewel cases. This will prevent the disc from any dirt and scratches.
3. Ensure proper handling.
In handling your DVDs, you have to make sure that you handle them with care. Hold at the center hole and at the outer edge to prevent fingerprints.
4. Do not write on the disc.
Avoid writing on DVD discs as much as possible.
Part 3. How to Keep DVD Movies Safe Permanently
After learning how long a DVD can last and realizing that preservation is not your thing, then here's the best solution to at least keep your DVD movies safe forever.
We highly recommend you rip your DVD to digital videos and compile as many movies as you need. For this reason, this Video Converter Ultimate is perfect to be on your hand for a fast and lossless ripping process. This software comes with a ripper that powerfully works on all types of DVDs, such as DVD-R, DVD+R, DVD+RW, DVD-RW, folders, and ISO folders. Furthermore, it rips and converts your DVDs to your desired video format as it supports more than 500 various media files such as MP4, MOV, MKV, AVI, WMV, FLV, and more.
Moreover, it offers you great customization options that you can use for the enhancement or beautification of your outputs. Amazingly, this software also comes with so many editing tools outside its ripper tool, such as a movie maker, collage maker, Toolbox of numerous editing tools, and a video converter infused with Ultrafast technology. Indeed, you will no longer be concerned about how long DVDs last as long as you have this Video Converter Ultimate on your computer device for ripping them. Thus, here's a complete instruction on how to rip a DVD losslessly.
Key Features:
● Multifunctional software that rips, converts, creates, and edits media files.
● Infused with advanced technologies such as GPU acceleration, Ultrafast, and Artificial Intelligence.
● Support all types of DVDs for the input and over 500 various formats for the output.
● Produce high to lossless up to 8K video outputs.
Step 1
Download and install the ripper and converter software tool on your desktop or Mac by hitting the Download button above.
Step 2
Now, insert the DVD disc you want to rip into your disc drive, and then open the newly installed software. Once you reach its main interface, click the Ripper menu tab, then hit the Plus icon at the center or the Load DVD to read and import the disc you inserted.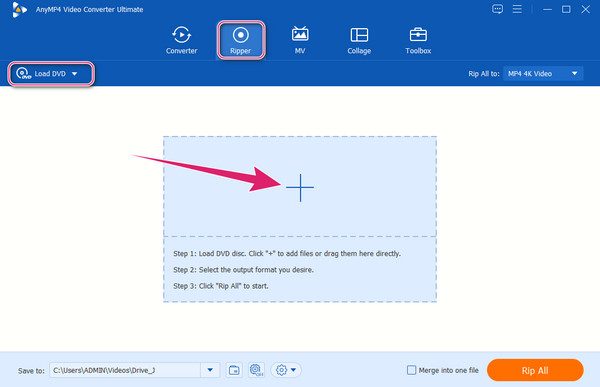 Step 3
Next is to add the Full Title List of the DVD you imported. Then, once added, proceed to the Rip All To part located at the top right corner of the user interface and click the Arrow button. After that, a new window will prompt, where you need to choose a video format to use for your output.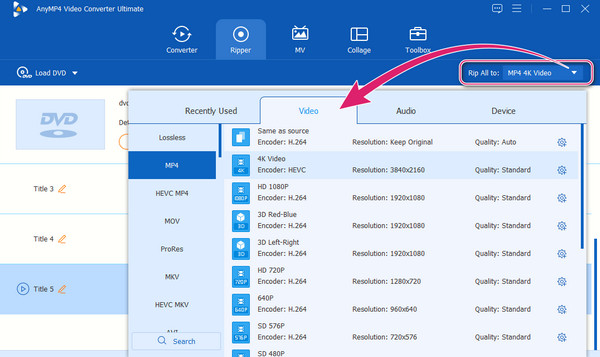 Step 4
As quick as that, you can already click the red button that says Rip All to prompt the ripping. Wait for the quick DVD ripping process to finish, then check your output after.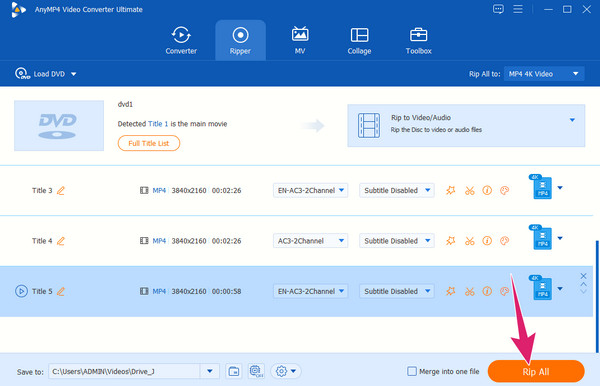 Part 4. FAQs about Keeping DVDs
How long does DVD-+R last?
Typically, DVD-R and DVD+R last for 30 years up to 100 years if well handled.
What is the best output format for ripping DVDs?
If you want the best format for compiling bulk DVD movies on your device, then MP4 should be your choice. MP4 is a type of file that contains video content in a small compression. This means you can pile up many MP4 videos without a huge storage requirement.
Does the quality of DVDs change as time passes by?
No, unless the disc is getting outdated and scratched.
Conclusion
You have learned by reading the entire article the best methods to answer how long a DVD lasts. If you want to keep your discs longer for collection purposes, then you must follow the tips see the factors presented above. But if you only seek an article like this for your DVD movie preservation, then it is best to acquire our recommendation to rip the DVDs. This way, you will not need to give effort into cleaning and storing the DVDs because all you need to do is rip them and then play them anywhere. For this reason, use Video Converter Ultimate and trust the lossless video quality conversion in a rapid way.